Are you interested in owning your own Donut Experiment? Do you love making people happy and providing them with delicious treats everyday? Do you think owning your own Donut Experiment would be just about the best job in the world? Then you sound like our kind of people! If you would like more information about owning your own Donut Experiment or would like to talk to us personally about the possibility, just fill out the inquiry form below and we will be in touch ASAP.
* If you do not receive a response within 48 hours, please check you junk/spam folder as sometimes our TDE emails get filtered.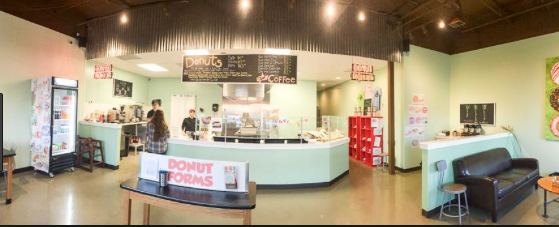 Founded in 2012, The Donut Experiment is a boutique-style shop where the donuts are made right in front of the customers, or for catering events, where the customers pick what goes on their donuts.At The Donut Experiment, every donut is a creation! We start with a delicious, fresh-made cake donut and then customers pick from our huge selection of icings and toppings. Donuts can be as simple as plain or glazed or as crazy as key lime, maple bacon or Sriracha. The Donut Experiment is the ultimate donut experience that allows customers to be creative with their donuts.
We also offer catering services for birthdays, weddings, corporate events, and more! Our catering packages are standardized for orders up to 100 people, but catering packages can be customized for any event.
Franchise FAQs
We realize that purchasing a franchise can be an exciting, and sometimes scary, proposition and we are here to help. Below we have compiled some of the questions that we are most frequently asked. If you are still interested after checking them out, simply complete our Franchise Inquiry and we will be in touch soon.
How long does it take to investigate a TDE Franchise?
The investigation process typically takes about a month.
Does The Donut Experiment assist me with any financing?
TDE does not offer any direct assistance with financing. However, we do work with third-party vendors who can assist franchisees with financing.
What is the total investment for a TDE Franchise?
The total investment to open a TDE location is approximately $275,000.
What characteristics does The Donut Experiment look for in a franchisee?
We are looking for honest, hardworking individuals who are excited about opening their own TDE locations. We are building our corporate family and are looking for like-minded people to share in that experience.
Will you help me find a site?
Yes, we have a full real-estate system to help you find sites and open your shops.
What type of training will I receive?
As a franchisee, you will receive several weeks of training and opening assistance.
How long does it take to open a TDE Franchise?
It takes approximately eight months to a year to open a TDE location.
What professional qualifications are required to become a TDE franchisee?
We do not have specific "qualifications" for franchisees. Every candidate is evaluated on a case-by-case basis and we are very open to talking with people from all walks of life. Just about anyone can be trained to own/operate a TDE location and no restaurant experience is necessary.
What is the ideal size of a TDE store?
Approximately 1300sf.
Does each franchise have an exclusive territory?
Yes, you will have an area of protection around each one of your stores.
What are my next steps?
Please complete our online Franchise Inquiry and we will be in touch by phone.